INTRODUCTION

   When considering the need to address the subject matter contained in this ARC Perspective, it was realized that of all of the controversial subjects that we have addressed, doctrinal, counter-cult, and otherwise, this one could serve to be the most inflammatory. Why? Because in the clarifying of this subject matter, it is believed by some, that one could very well destabilize what they believe is God's tried and true method of funding his church, and its activities.

   While it is believed by this writer that there is rampant abuse in the Christian church as it pertains to what it teaches about money, (as can be seen in the ARC Perspective     "The Profits of Got,") it is not our position that the abuse here is intentional by all, We do believe, however, that it is the result of an intentional cloud of ignorance that has been left to fester over this subject for far too long. It has long perplexed this writer how little is actually taught on a subject that is so greatly emphasized.
   In addressing this subject we also recognize that some may believe that in doing so, we may give cause to those who are ever looking for any reason not to participate in the ministry of giving anyway. Because we believe that it is by giving that the Christian church is able to sustain itself with the needed programs and services by which it is to aid in the primary Christian cause of evangelism, it is clear that it is not our intent to assist anyone in the avoidance of their responsibility as required by the Word of God. On the contrary, it is our sincerest desire to assist them in the acceptance of this respon-sibility. But we do not believe that it is through threats of curses, and the usage of theo-logical intimidation and coercion that anyone should be driven to perform. These are all tools of the flesh, and should play no part what-so-ever in the equipping of the saints for the work of ministry, or in the participation in ministry itself. In that the Word of God teaches us that:

"The secret things belong to the Lord our God, but those things which are revealed

belong to us and to our children forever, that we may do all the words of this law."











                         Deuteronomy 29:29
   To that end this Perspective is written; to ensure that all of what is revealed concerning this topic is illuminated in scripture, so that those who would seek to apply it would do so with God's understanding. To that end, we solicit the Lord's grace.

The                                 

APOLOGETIC                       

RESEARCH CENTER                

This page last updated 6/11/2010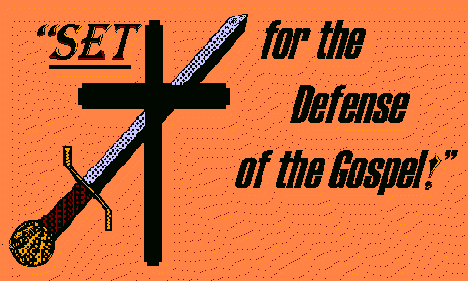 TITHING

          "Who Has Robbed God?"






Listen To

ARC Studies Live!

Monday through Friday

from 6 to 7 pm est